Mad About Pets
About Me
No personal information shared.
Five Summer Foods Dangerous to Pets
AVOCADOS You make think Spot loves yummy summer guacamole as much as you do but in fact avocados are toxic to dogs. According to the ASPCA's website, all parts of the avocado, including the pit and skin, contain a substance called Persin , which can cause vomiting and diarrhea in dogs. ONIONS Picture this: you're grilling up some kebabs out back when a piece of grilled onion falls to the ground. Do you let Rover eat it? According to WebMD , you shouldn&rsquo .....
Print-on-demand to find the perfect pet gift
Print-on-demand services are really popular on the internet right now. You've probably seen these websites , where you can design your own t-shirt, coffee mug, calendar, etc. and have it printed up. The nice thing abou .....
Fizzion Pet Stain Odor Remover
If you're a pet owner, you've probably tried just about every cleaner under the sun to get rid of pet stains and odors. I was lucky enough to try out Fizzion , a new and unique product designed to break down the toughest stains and odors (even urine!) Fizzion is a little different than the "usual" cleaners, as it comes in a concentrated tablet form rather than a pre-packaged spray bottle. You just drop the tablet into a 16 oz. spray bottle full of warm water, let it dissolve, and you're ready to go. This is a great .....
How to quickly locate a lost dog or other pet
What would you do if you lost your pet? The first thing most people think of is to put up flyers around the neighborhood. Some might go knocking door to door. Others might post an ad to Craigslist to reach a wider audi .....
Pets and Depression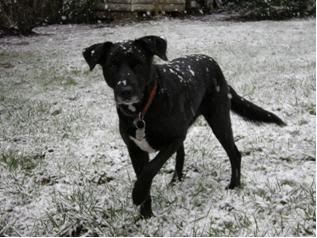 Pet therapy, professionally referred to as Animal-Assisted Therapy (AAT), has been used by therapists in the UK for decades. Notably, pet therapy was used during WWII when an American Corporal, recovering in an army hospital in the Philippines, brought his pet terrier Smoky in to help cheer him up. The dog was s .....
5 Things to Think About Before Buying a Bunny
You're at the pet store with your family when your child finds it - a rabbit sitting amongst it's siblings in a well lit display. Your child begs and pleads until you finally submit that they can "h .....
Reasons to Feed Your Dog Organic Dog Food
By: Sujan Feeding natural organic pet food to your dog can create a more expensive food bill than feeding your dog a store brand. However, the extra expense is worthwhile when you consider the many benefits that your dog will receive. Organic pet food is often far superior in terms of nutrition and food content when compared with non-organic pet foods. You will quickly find that the health benefits that your pet will receive far outweigh the costs involved. Here, we review the top 5 benefits of feeding natural organic pet food to your dog. .....
GlacierPoint Perfect Pet Fountain
I have long been on the quest for an electric cat fountain that would provide my cats clean, fresh drinking water and not provide me a hassle. Every single fountain I've ever purchased has had the following things in common: cheap pump that either clogs or simply stops running altogether, cheap plastic basin that is nearly impossible to sterilize, and expensive custom filters that rarely do much of anything to truly filter the water. To prove my point, here (in the order of purchase) are the different pet fountains I have bought, used and subsequent .....
BOOK REVIEW: Wagging Tales by Tim Link
I recently finished reading Wagging Tales: Every Animal Has a Tale by Tim Link. Mr. Link is a self-professed animal communicator who uses his special skill to help owners understand their animals better, and to help animals be understood. According to the author, he is able to communicate telepathically with animals to interpret their innermost thoughts fears, and anxieties.I admit that when I started reading the book, I expected sappy stories and ridiculous dialogues betwen Mr. Link and his animal subjects. I was very surprised to discove .....
The Importance of Pet Insurance
As everyone knows, access to health insurance is the talk of the nation right now. Insurance is a necessity in this country. What many don't realize is that insurance isn't just for people; it's for pets, too. Many companies are now offering health insurance plans for pets that can cover any .....